At LawnCrafters, we have assembled a superstar team of lawn and landscape professionals that are dedicated to leaving every property better than we found it. With a team that's dedicated to innovation, you can count on us to always use top-of-the-line techniques and equipment to secure the best results possible. Our pride in our work means that we know you'll love what we do – so we offer a 100% money-back guarantee if you're anything less than satisfied!
Our services include spring cleanups, mulch installation, irrigation repairs, and much more for commercial, residential, and HOA property owners in Mankato, MN and surrounding cities like North Mankato and St. Peter. Let us show you what it feels like to be priority #1 – get in touch with our office today by calling (507) 414-8393 and scheduling your first service!
---
What Makes Us Different
We're not just any lawn and landscaping company – we're dedicated to innovation. We're never going to become complacent and use the same old methods just because that's what's comfortable. We're always pushing to find better ways to produce consistent, above-and-beyond results! Our team is not only knowledgable and experienced, but equipped with the latest and greatest equipment available so they can do what they do best.
The other factor that makes us different is the abundance of pride we hold in our work. That means that we're going to show up on time, every time to get the job done and get it done right. But perhaps the greatest show of pride is in our 100% money-back guarantee! Our #1 priority is that you're overjoyed with our services, so if you're anything less than satisfied, we refuse to rest until we make things right. We'll immediately address your concern and fix the problem at hand, and if for some reason we can't, we'll refund 100% of the application cost. While we have this guarantee in place to protect you, we're confident that you won't ever need to use it!
All our equipment is cleaned weekly and our experts proudly wear branded team uniforms!
---
Our Services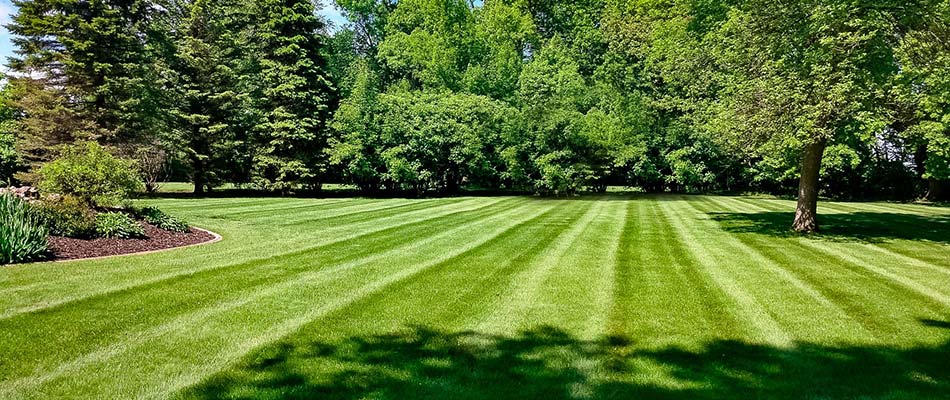 Our team members are students of everything lawn and landscape. We work to become experts on every topic before we ever offer a service so that you know you can expect the same exceptional results whether you're scheduling a spring cleanup, fertilization, irrigation installation, or something else.
Our broad range of services includes:
Annual flowers/seasonal color
Plantings and softscapes
Fire pits and outdoor fireplaces
Outdoor kitchens
Patios and walkways
Water features
Landscape bed weed control
New lawn seeding
Shrub and tree fertilization
Flea and tick control
Mosquito control
Perimeter pest control
Leaf removal
Plant trimming and pruning
Bush hogging
Lawn disease and insect control treatments
... and more!
---
Call us today to schedule your next lawn and landscape service!
At LawnCrafters, we're adamant about being the best lawn and landscape company to ever do it. We're always going to push the envelope and keep our finger on the pulse of the industry to ensure that we're utilizing the optimal techniques and equipment to get the job done. You can rely on us to produce consistent, high-quality results no matter if you're scheduling pest control, lawn care, irrigation installation, or another service. We provide these services to residential, commercial, and HOA property owners in Mankato, North Mankato, St. Peter, and nearby areas in Minnesota. Call our team at (507) 414-8393 today to schedule your next lawn and landscape service!