Professional Lawn & Landscape Services in Mankato, MN
Our services are backed by our 100% satisfaction guarantee!
With economic growth rates that not only lead Minnesota but are among the top in the nation, there's no doubt that the city of Mankato is one to watch. Mankato has extensive cycling trails, river rapids, and great parks, all while being a thriving hub for arts and entertainment with walking sculpture tours and numerous art galleries. It's clear that no matter your interests, everyone can visit Mankato and leave enriched with new experiences!
For a city brimming with so much vibrancy, we knew that our lawn and landscape services had to be just as exquisite, so we didn't rest until we achieved that level. We offer top-tier lawn and landscape solutions to residential, commercial, and HOA property owners in Mankato, MN and nearby cities. Our services include irrigation installations, spring cleanups, lawn fertilization, and much more!
---
Our Expert Lawn Care Services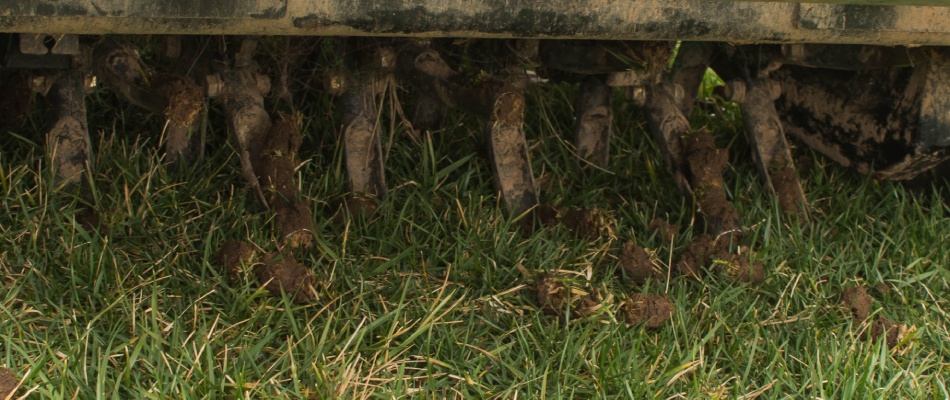 We can take your lawn to the next level with nourishment and protection provided by our lawn care services.
Lawn Fertilization & Weed Control: These pet-friendly, organic-based lawn care services will provide your lawn with the nutrients it needs to thrive while also keeping your lawn free of weeds.
Landscape Bed Weed Control: Our team will ensure that your landscape beds are free of pesky weeds so that your plants can thrive unhindered!
Core Aeration: To reduce soil compaction, we can remove plugs from your turf, creating new pathways for resources like water and nutrients to reach the deep roots of your grass.
Overseeding: We'll seed your lawn with a combination of tall fescue and Kentucky bluegrass seed to fill out any bare spots as an add-on to core aeration!
Hydroseeding: Our team will spray a hydroseeding mixture across your lawn, containing new grass seed and beneficial additives like startup fertilizer and weed preventer to help the seeds establish themselves in your lawn.
Lawn Insect Control: We can help protect your lawn from insects like grubs and Japanese beetles with a preventative treatment to eliminate their eggs before they can hatch and do any damage to your lawn.
Lawn Disease Control: Our team will combat the fungi that cause diseases like blight, dollar spot, brown patch, snow mold, lawn rust, necrotic ring spot, and more. We have both preventative and curative treatments in our arsenal!
We offer tree and shrub care services including fertilization and disease and insect control!
---
We can install beautiful softscapes, fire pits, outdoor kitchens, and more.
Let our team upgrade your property with our beautiful installation services!
Planting & Softscapes: Whether you need a new installation or a renovation of an existing bed, we've got you covered. We'll use perennials like lilies, hostas, phlox, cornflowers, and more to spruce up your landscape!
Annual Flower Installation: We offer an annual pots program where we'll deliver pots with beautiful annuals in them directly to your door! We can also install annuals into your flower beds.
Patio & Walkway Installation: Our team can build a custom patio or walkway that fits in seamlessly with your property out of concrete paver blocks or bricks.
Retaining & Seating Walls: Schedule installation of our retaining or seating walls to combat erosion or provide extra accommodation on your property!
Fire Pit & Outdoor Fireplace Installation: We can install gas, wood, or propane-fueled fire pits or outdoor fireplaces.
Outdoor Kitchen Installation: Our team will build the outdoor kitchen of your dreams, decked out with grills, smokers, pizza ovens, refrigerators – whatever you want!
Landscape Lighting: We use low-voltage LED lights to illuminate your landscape.
Water Features: Whether you want a waterfall, stream, pond, bubbler, or something else, we can install a beautiful water feature to bring a calm atmosphere to your property.
---
Our Professional Lawn & Landscape Maintenance Services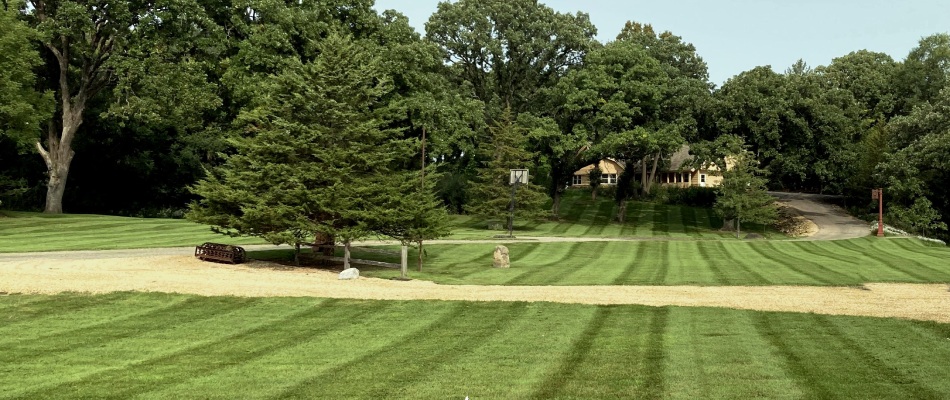 We'll keep your property well-manicured all year long with our expert maintenance services!
Lawn Mowing: Our mowing services run weekly from around mid-April to the end of October depending on the weather. We'll also string-trim, blow, and even offer power edging as an add-on!
Spring Cleanup: During our spring cleanup service, our team will perform perennial cutbacks, debris pickup, and mowing to get your property in tip-top shape!
Mulch & Rock Installation: We'll refresh your landscape beds with mulch or rock to increase the aesthetics of your landscape beds. These ground covers also provide benefits such as moisture retention, temperature regulation, and more!
Plant Trimming & Pruning: We offer selective pruning as well as shrub trimming from the beginning of June to mid-August.
Leaf Removal: We can make two visits to your property in the fall to combat the falling leaves!
Our team can help keep your commercial property's sidewalks, entrances, and more clear of snow with our snow removal service!
---
We also offer professional pest control and irrigation services!
Our professionals can defend your property against pests and also help install, repair, winterize, or startup your irrigation system!
Perimeter Pest Control: We'll treat one inch up your home or building and five inches out to create a strong barrier that stops pests at the door.
Flea & Tick Control: Our highly effective flea and tick service will combat fleas, deer ticks, wood ticks, and more.
Mosquito Control: Kick mosquitoes to the curb with our treatment! We'll use a three-prong approach to battle mosquitoes for the best possible protection.
Irrigation Installation: We can install a custom irrigation solution for you using standard lawn irrigation, container irrigation, or drip irrigation methods!
Irrigation Repairs: Our technicians are well-versed in repairing just about any part of irrigation systems, including valves, sprinkler heads, zone lines, and more.
Irrigation Winterization: Winter can be hard on your irrigation system if it isn't properly turned off. Our team will run through the checklist and ensure that your system is ready for the freezing temperatures to come!
Irrigation Startups: Once spring is in full swing and your lawn and landscape are waking up, we can do the same to your irrigation system! We'll make sure everything is turned on safely and calibrated for peak performance.
---
Call our team today to schedule any of our professional lawn and landscape services!
At LawnCrafters, we take pride in everything we do – which means that we do it well, not just to meet your standards, but to meet our own. We don't believe in taking shortcuts. Rather, we do things right the first time around, with our detail-oriented team members leaving no stone unturned to ensure that you're receiving the best quality service possible. Our services are available to commercial, residential, and HOA property owners in Mankato, MN and nearby cities. Call our team at (507) 414-8393 today to schedule your next lawn and landscape service!